In the kitchen, coconut oil and honey are popular and healthy substitutes for refined oil and sugar, respectively. Turns out they can even replace your cosmetic creams and face masks, too. Coconut oil and honey face mask is beneficial for the skin and is helpful in treating a number of skin conditions such as dry, flaky skin, dark spots, scars, etc. Let's see how coconut oil and honey face mask is beneficial for skin.
---
Benefits Of DIY Coconut Oil And Honey Face Mask 
Honey
Honey exerts emollient, humectant, and soothing effects on the skin. It locks the moisture in the skin, preventing it from drying out and thus makes the skin soft and supple. (

source

)

Due to its antimicrobial activities, honey can inhibit the growth of a range of dermatologically important microbes. One of them is Propionibacterium acnes, a cause of acne. (

source

)


Honey possesses strong antioxidant activity, which helps it to neutralize free radicals and thus prevent oxidative stress. It also has a protective effect against UV radiation, making it an ideal ingredient to be used in anti-aging products.



Coconut Oil
Coconut oil is composed of many healthy fats and vitamin E, which makes it an effective moisturizer. It absorbs readily into the skin and makes it glowing, soft, and smooth.



A compound derived from the lauric acid component of coconut oil, monolaurin, displays antimicrobial activity. (

source

)

Coconut oil helps in the fading of fine lines and wrinkles. It reduces dark spots, boosts collagen synthesis, and protects the skin from the adverse effects of UV radiation. (

source

)

Coconut oil improves the overall appearance of the skin and gives it a natural, healthy glow.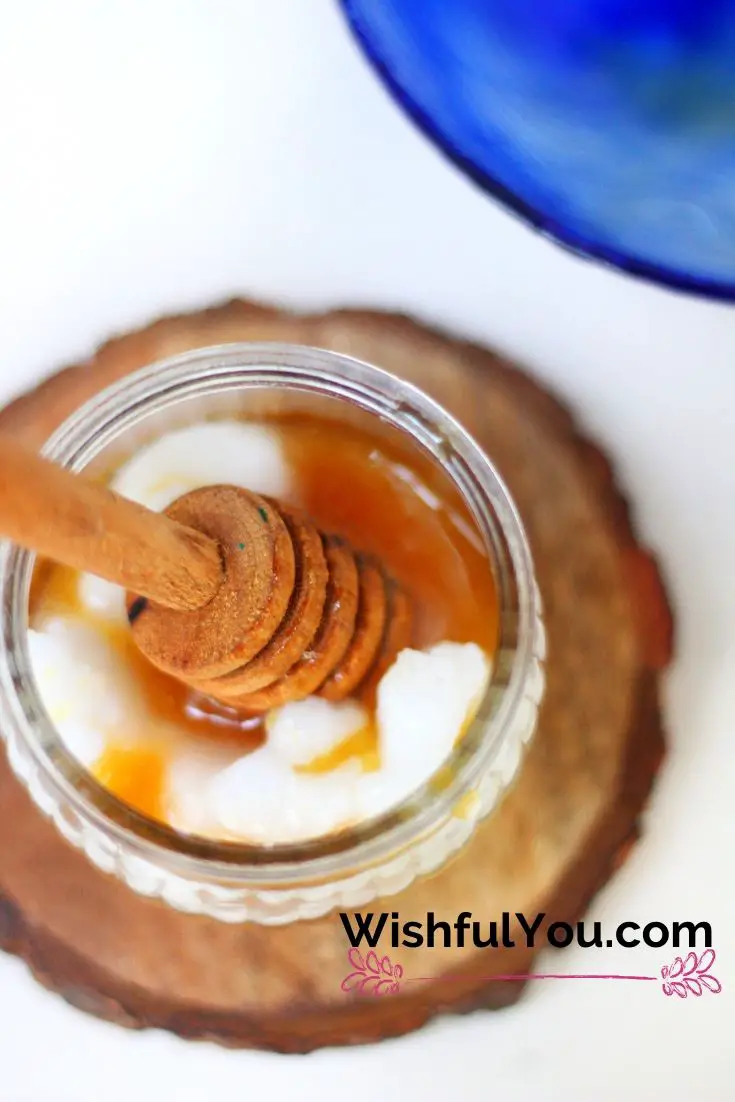 Frankincense Essential Oil
Frankincense essential oil's anti-inflammatory property is instrumental in reducing acne blemishes; thus paving way for a clearer skin. It also helps in the wound healing process, thus reducing surgery/accident scars or even pregnancy marks.

The astringent-like properties of the oil help to soothe the skin, tighten skin pores, and gives the skin an even tone.

Frankincense essential oil is beneficial in

softening fine lines

and wrinkles. It stimulates cell regeneration and also protects older cells from free radical damage.

---
How To Make DIY Coconut Oil And Honey Face Mask
Ingredients
3 tablespoon Coconut Oil

2 tablespoon Honey

8 drops Frankincense Essential Oil

How To Use
Mix honey and coconut oil in a bowl.

Add 8 drops of frankincense essential oil to the mixture. Combine well.

Apply the mask to your cleansed face, carefully avoiding the eye area.

Leave it for 20-30 minutes.

Wipe it off with a damp cotton cloth.

Repeat it at least 2-3 times.

you can store the leftover mask in a glass airtight container for further use.
Note: Avoid this face mask if you are having acne-prone skin.
---
Conclusion
Coconut oil, honey, and frankincense essential oil; all the three ingredients have proven their efficacy for a variety of skin problems like acne, scars, premature aging, etc. Combining their powers in a face mask gives your skin the much-needed boost of nourishment. This DIY recipe can be easily made at home and saves money too. So try this face mask and your face will thank you for it.
---